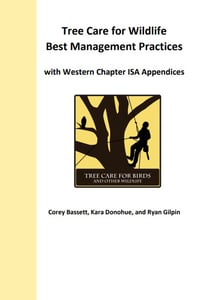 $

10.00
Tree Care for Birds is a program of the Western Chapter of the International
Society of Arboriculture. Paper copies of these Best Management Practices are
available for purchase at www.wcisa.net at an affordable cost thanks to the
generous support of West Coast Arborists, Inc and the Western Chapter. Early work on this project was funded in part by a Britton Fund grant with California ReLeaf.
Electronic PDFs of this material are freely available at
www.treecareforbirds.com.
This version, authored by Corey Bassett, Kara Donahue and Ryan Gilpin, was published on April 13, 2022.
Contact [email protected] for access to the text, illustrations, comments, or questions. Illustrations were created by
Brian French, Monica Edwards, and Catie Michel.